Temperature Range
Heat Pipes are available in two temperature ranges.
For Injection Moulds: Heat Pipes having temperature range from +5 deg. C to + 200 deg. C. The main application
of these types of Heat Pipes are in Injection Moulding, Compression / Transfer Moulding and Rotation Moulding,
Spiral Screws.
For Die-Casting Dies: Heat Pipes having temperature range from +5 deg. C to + 350 deg. C. The main application
of these types of Heat Pipes are in Die-Casting, Spiral Screws in plastic moulding.
It is advisable to order the Heat Pipes suitable to the applications temperature range. If the Heat Pipe gets heated
above its operating temperature, it releases a small amount of non-toxic gas and becomes inoperative.
Material of construction: Copper / Stainless Steel

How to get the best out of Heat Pipes
It is essential to design cooling system in mould design stage only. Normally water-cooling is given after mould
is complete. Due to mould elements like return pins, ejector pins, inserts, alien bolts, etc. only limited space is
available for providing water channels. Mould cooling controls productivity of mould and hence one should think
about cooling design first and then should give ejector pins, return pins, alien bolts, guide pillars and other standard
items in the vacant places.
Selection of correct dia. and length of Heat Pipe is important. Based on product raw material, weight of the product
and desired cycle time, the number of Heat Pipes required for a particular mould is decided.
Once size and quantity of Heat Pipes is finalised, installation of Heat Pipes in the mould needs to be done accurately
to get maximum efficiency.
Guide Lines of Heat Pipe Installation

• Select the largest dia. of Heat Pipe considering core strength.
• Drill and ream the hole to get 0.05 larger hole than Heat Pipe diameter. Scrub the hole with solvents to remove dirt and oil.
• Water to be circulated on 10 to 25% of Heat Pipe length.
• Do not cut or pierce Heat Pipe. This will make it inefficient.
• Before inserting Heat Pipe in the hole, coat uniformly with installation paste over entire length except the portion in which water is circulated and insert with gradual rotation of Heat Pipe to displace air from the hole.
• Do not put any packaging over Heat Pipe in case hole becomes oversize. Use higher size Heat Pipe.
• Position inlet and outlet of water to get turbulent flow over Heat Pipe cooling end.
• Position the colour end of Heat Pipe into water line
Heat Pipe Application Guide
Heat Pipes are widely used for improving cooling efficiency of injection moulds and Die casting dies all over the world.
This method of cooling has helped reduce cycle time, reduce rejection and improves quality of product. Sketches given
inside the folder describe various applications where one can confidently use Heat Pipes. These are taken from actual
examples of moulds, which are in production all over India. In conventional water cooling, effectiveness of water
cooling goes down due to rusting, blocking of cooling channels. In case of Heat Pipes since water is not circulated
directly in the core, cooling efficiency remains the same throughout the life of the mould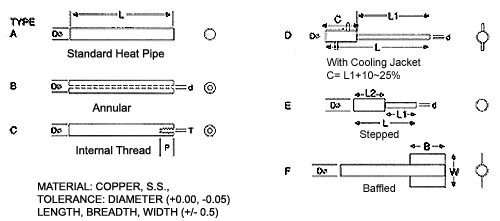 Heat Pipe Standard Range Details
Heat Pipes are readily available in standard diameters from 3 to 12 mm and in lengths from 50 to 250 mm shapes
as shown in the chart. Other sizes from 2 to 24 mm and in any lengths are also available on request.
If you need any further information and help in solving your mould cooling problems; our technical service people will
assist you.
Note: All Heat Pipes are 100% tested to highest international standards. Now all major plastic companies and mould
makers have started using our Heat Pipes. Some of them have changed over from imported Heat Pipes to our high
performance Heat Pipes, which are available at competitive rates.

DIA Ø mm

LENGTH (mm)

A


B
d

C
Tp

D
L1-L


E
L1-L2-d

F
B W

50

75

100

125

150

175

200

225

250

3
4
5
6
8
10
12

-
-
-
3
4
6
8

-
-
3-3
3-3
6-6
8-8
8-8

PLEASE
STATE

PLEASE
STATE

PLEASE
STATE

*
*
*
*
*
*
*

*
*
*
*
*
*
*

*
*
*
*
*
*
*

*
*
*
*
*
*
*

*
*
*
*
*
*
*

*
*
*
*
*
*
*

*
*
*
*
*
*
*

*
*
*
*
*
*
*

*
*
*
*
*
*
*
Good Reasons To Use Heat Pipes:
Reduce cycle time
Eliminate hot spots
Reduce wastage
Improve product quality
Increase mould life
Eliminate core clogging
Cut mould and Moulding costs
Upgrade old moulds
Use damaged moulds